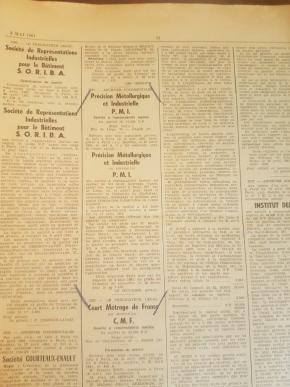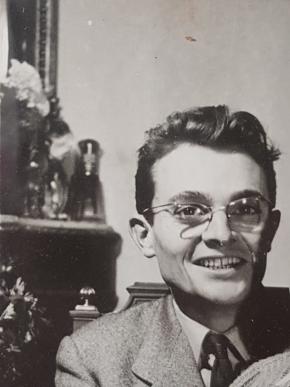 The History of PMI is above all a family story.
In 1952, in the Glorious Thirties, André LE GUYADER, born in Pontivy, started through friends the production and sale of turning, punched and stamping parts.
He expands his business and establish in 1961 the company P.M.I. Métallurgie.
He is helped by his wife Michèle LE GUYADER who handles the secretariat.
Working for numerous sectors such as: automotive, furniture, military, communication…
More and more customers works with PMI. New needs emerge:
" I would need your insert to be welded to my bended bracket. Do you know someone who could make the complete set? "
" Mr. Le Guyader, do you know any paint facilty in your area? "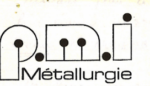 One thing led to another and the company embraced new technologies such as bending, welding and painting.
New markets and customers were added and in 1973 tube bending emerged in the company.
In 1977 Didier Le Guyader, eldest son of André le Guyader joined the company and began his training to become multi-skilled.
He was joined 5 years later by his brother Alain Le Guyader who started in training to be versatile.
Sectors such as retail and advertising were added and it was almost as a matter of course that the company started wire bending.
Didier le Guyader and Alain Le Guyader extended their portfolios and became shareholders in 1980 of PMI Métallurgie.
Well known in the furniture and audiovisual sector PMI Métallurgie manufactured many metal frames, coffrets for printers and TV stands.
The effervescence of the 1990s saw the opening of the Opio Club Méditerranée under the direction of Mr Serge TRIGANO.
PMI Métallurgie is awarded with the production of its outdoor chairs and tables. PMI's challenge was to deliver 1500 tables and 1500 chairs within 5 days for a total of 7 full trucks of 120 m² each which was made possible due to its amazing team.
PMI Métallurgie produced more and more components and sets for the construction, water treatment and bedding sectors.
Through several purchasing centres in France and also in Germany PMI Métallurgie supplied an impressive number of audiovisual furniture for schools and institutes. The furniture and bedding sector trusted PMI Métallurgie as a valuable partner and thus was awarded with many components and assembly parts to be produced.
PMI Métallurgie started to manufacture plastic injection and aluminium die casting of small sized parts.
Sébastien Le Guyader, Didier Le guyader's son and Alain Le guyader's nephew joined the company in 2005 starting then his training to become mutli-skilled.
The company expanded the medical equipment, food process and pharmaceutical sectors.
Plastic Injection and Aluminium Die Casting of small size parts and low batches began to spread.
PMI increased its export portfolios.
More and more reputable retailers, industrial companies subcontracts to PMI the manufacturing of their components, sub-assemblies and complete products.
Sébastien Le Guyader became in 2019 the shareholder of the company.
Recognized in the medical equipment market. PMI manufactures many accessories, assemblies, finished products for hospitals, clinics, homecares and medical distributors.